Nowsight is proud to be a Vertical Solutions Provider for AccountMate–a powerful, customizable ERP with a 35-year track record of helping businesses. After working with AccountMate business partners and clients, we realized the need for a simple but powerful BI system that could sit on top of the AccountMate ERP to deliver actionable insights with just a few clicks.
Enter Simple BI.
Simple BI is the AccountMate-integrated, fast implementation BI system that allows companies to quickly see exactly what matters. Who is late paying–and by how much. Which accounts are hitting your revenue targets, and which have been trending down.
Why you need BI on top of your AccountMate ERP
Your AccountMate ERP system is powerful. It provides actionable data, and comprehensive reports. Our clients typically see significant incremental value in the visualizations and the ability to click-and-drill. It takes their understanding of business drivers to a whole new level. Seeing Gross Expenses, Net Income, Gross Profit and more–all in easy-to-read dials with progress against your targets–makes your morning coffee all the more productive.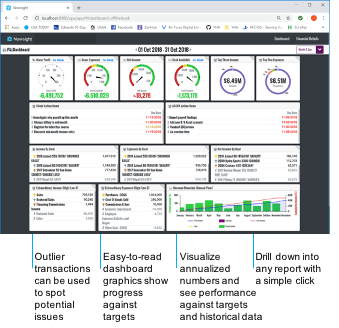 Another key value that Simple BI brings to AccountMate is the ability to compare things month-over-month or year-over-year. This helps bring seasonal trends into clarity, because you can easily see how you performed in the same period last year.  The Mountain Chart is a particular favorite for the ability to in a single graph see current income, gap to goal, comparison to previous periods and more.
You can also learn more about our AccountMate-specific solutions.
Moving at the speed of business
We're businesspeople who understand business. So we do the lifting when it comes to installation and implementation. One 15-minute call per week, and the NowSight Simple BI solution can be live, pulling data from your AcountMate system, in approximately 4-6 weeks. 
Let's talk about how your business can benefit from the AccountMate-Nowsight one-two punch. The exploratory call takes less than 30 minutes, but the impact can be felt all year–and beyond!