COVID-related supply chain disruptions continue to plague retailers across all industries and regions as we roll into the 2nd half of 2021. Combine that with a labor shortage and strong consumer demand and it's enough to keep company leaders awake at night.
What we are seeing is the need to focus, more than ever, on productivity and profitability. And we have the exact tools to help you.
Productivity to do more with less
With fewer people in the workforce, you are making the most of every employee, every shift, every day. Our clients who have implemented dashboards on the warehouse floor find a team-competition atmosphere that's almost a form of gamification. Employees naturally try to beat their best performance and want to rise on the leaderboard. One organization was able to have 20% fewer workers on picking shifts and consistently deliver higher output – even after a year of implementing the system.
Don't overlook small gestures. Bring in pizza for lunch. Stock a breakroom fridge with ice cream and sodas. Make sure management gets out of their offices and walks the floors. Employees want to feel like they are part of something bigger and that the team is winning. Employee engagement has never been more important!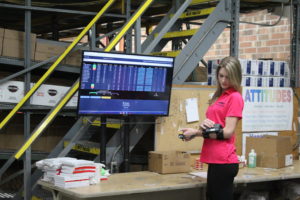 Profitability amid supply chain disruptions
With some products seeing 4-6 month backorders, it's important to make sure every order delivers maximum profit since inevitably some ordered items will be Out Of Stock. If you wait for an end-of-week report, you are missing the chance to contact the customer with a substitution and you could be sending deliveries out where you lose money because profitability thresholds weren't met. The right BI system will bring these insights right to you – ensuring that every invoice makes you the most money possible.
Now is the ideal time to put the processes and systems in place to take your operations to the next level. Blog readers can download a free tip sheet on how Business Intelligence drives business transformation with just a click.
p.s. We have a few more implementation slots left for 2021. Let's talk about your operations and what Nowsight BI can do for you![/vc_column_text][/vc_column][/vc_row]