Inventory-driven companies are constantly walking a fine line of what to stock, and how much. And with rapidly-changing consumer behaviors it can be even more challenging to ensure inventory levels for suddenly high-demand items can keep up with orders.
The Convenience Distribution Association, of which we are an Allied Member, provides members insightful data on trends across a variety of topics, which is great to help see how your operation stacks up and if you are maximizing on these trends.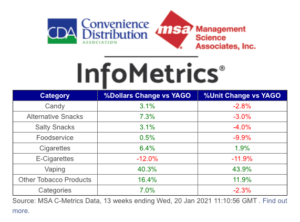 BUT—what if you could see this type of insight every single day for your company. What if every single sales rep started their morning with by-account stats, updated daily, with easy-to-understand flags on increases and decreases.
How much faster could you respond to trends? Sure, the sales team can take action with their accounts–but this could positively impact your entire organization.
Operations can ensure there are no out-of-stocks for high-performing items, so you don't miss sales. You can rapidly respond to reduce inventory for slow/low-performing items to prevent typing up cash in inventory.
Helping companies take immediate action on trends is why we love going to work every day. You are sitting on the data you need to make these improvements right now. So let's do it! Are you ready to start quickly responding to category and product changes and make the most of your inventory dollars? We're happy to review your data to find ways of improving your business–regardless of if you use our software or do it on your own–just schedule time with us.